Auto Bag Sprint Bagger 60 in sn#212294 383 MFD MAR2006
Auto Bag Sprint Bagger 60 in sn#212294 383 MFD MAR2006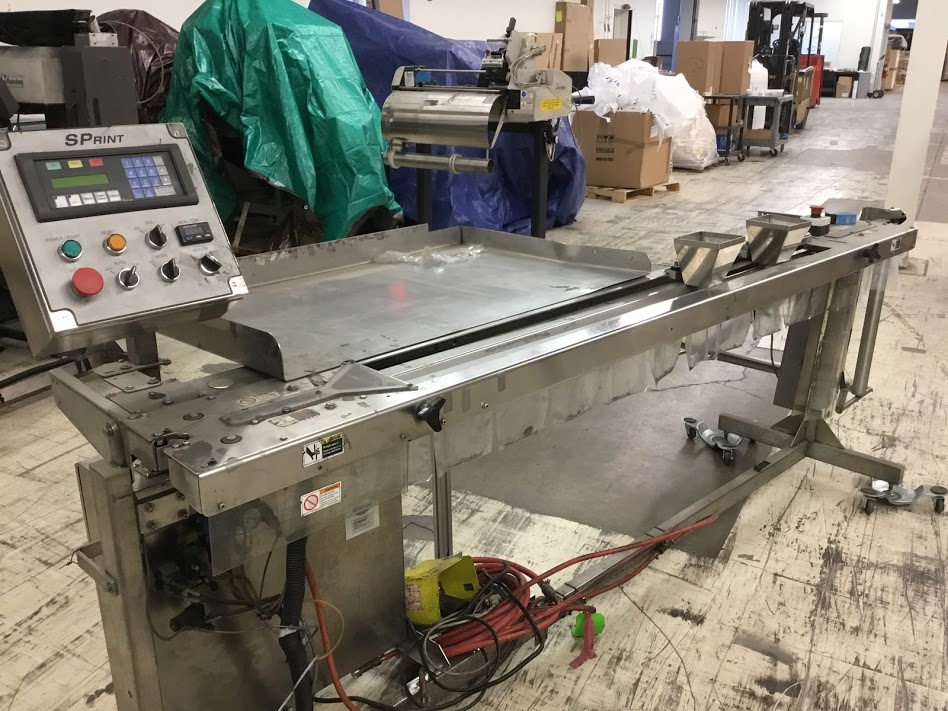 SPrint™ SidePouch® Bagger
Improves packaging productivity and offers value-added bag features
Engineered to provide high productivity solutions for hand load through fully-automatic packaging applications, the automated SPrint SidePouch packaging system operates at 120 bags per minute in continuous mode and offers special bag features. This advanced packing machine reduces costs while providing the widest range of industrial and retail bagging solutions.

The industrial SPrint bagger presents a conveyor of pre-opened bags that are staged for immediate loading. A standard 60" load area provides ample space for one or more operators or infeeds, while the ergonomic design is preferred for its close proximity of product to the bag. The loading and sealing areas feature a modular design to ensure operator safety as automatic bag sealing and trimming occurs away from the bag loading area. A cost-effective 30" load area configuration is also available for lower volume applications, or production environments that require a smaller footprint. Both SPrint SidePouch systems offer continuous or intermittent bag indexing to accommodate the high-speeds of individual product or kit packaging.

This automated packing system installs quickly and requires minimal operator training and maintenance. It can be easily integrated with a SPrint AutoLabel™ PI 412c™ Imprinter for inline imprinting, or with a variety of conveyors and infeeds for semi- to fully-automatic packaging. The standard sealing unit ensures attractive, high quality bag seals for most industrial and retail applications, while the optional medical sealer meets the stringent sealing requirements of the health care industry. Bag changeover is fast and easy to accommodate short production runs, with a single box holding up to 5,000 bags to facilitate longer runs.

Genuine SidePouch bags are system-matched for optimum performance, and offer a variety of value-added features, such as reclosable zippers, resealable plastic bags, reinforced headers and easy-open perforations. Since the bags are pre-made, costly equipment modifications are not needed to utilize these features. SidePouch bags are available in an assortment of materials that can be pre-printed with high-resolution graphics, text and bar codes for unique, attractive packaging with a competitive edge.
Safe and reliable packing machine is quick to set-up and easy to operate
Advances packaging productivity and offers a rapid return on investment
Operates at speeds up to 70 bags per minute in intermittent mode, and up to 120 bags per minute in continuous mode
Integrates with automatic infeed equipment, inline imprinters and existing production lines
System-matched bags offer special features, such as reclosable zippers, resealable plastic bags and more
Technical Specifications:
Weight:60V - 400 lbs. (181 kg)
30V - 375 lbs. (170 kg)Electrical:115 VAC; 60 Hz; 20Air Feed:60 psi of clean, dry airHeight:36 in. (91 cm)Depth:32 in. (81 cm)Length:60V - 168 in. (427 cm)
30V - 138 in. (351 cm)Pass-Through:Up to 5 in. (Up to 12.7 cm)Bag Thickness:1.5 to 4.0 milBag Sizes:W 2.63 to 20 in. L 3 to 18.75 i