7220 Series Heat Shrink Tunnel
7220 Series Heat Shrink Tunnel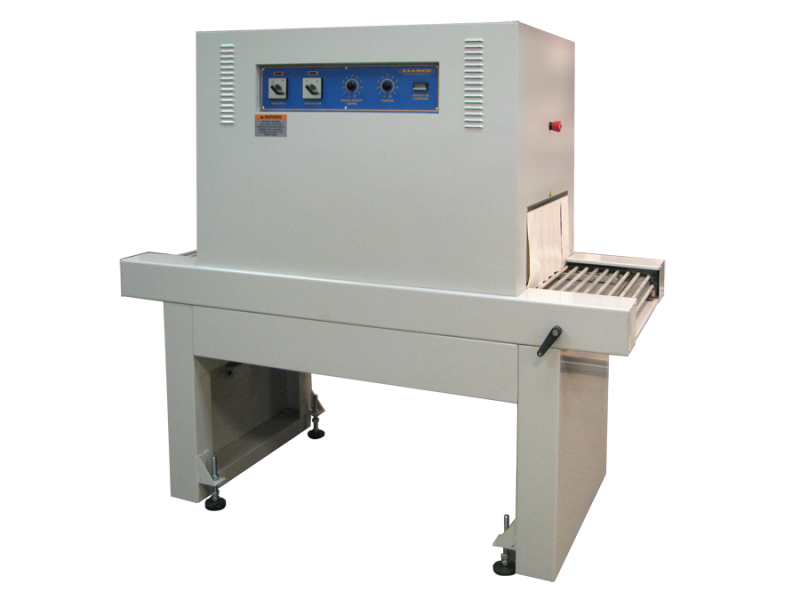 Clamco 7220 Series heat shrink tunnels are a great choice for tough, dependable long-life performance in continuous production environments. Constructed of heavy-gauge structural steel, Model 7221 features a heavy-duty blower, variable air velocity control, digital heat control, and a variable-speed roller conveyor that instantly adjusts between live and dead. The Model 7221 production shrink tunnel combines advanced design precision with tough, time-proven features—expertly crafted by Clamco, the industry's respected name for steadfast reliability and value.
Digitally controlled heat to 450°F (232° C)
Variable air velocity control
Separate shrink chamber and conveyor
Fully insulated heat chamber
Air-cooled controls
Double entry/exit curtains for greater efficiency, & minimum heat loss
Adjustable heat pattern
Sturdy steel base
Live/dead roller conveyor
Made in USA
Options:

• Additional roller–1.5 or 1 roller spacing
• Fiberglass mesh or stainless steel mesh conveyor
• Stainless-steel construction
• Spare parts kit
Some photos may show accessories not part of basic machine.
Specifications and design features subject to change without notice.
Specifications
Shrink chamber area 22?W x 10?H (56cm x 25cm)
Silicone-covered roller conveyor
Conveyor speed 0–125 fpm
Conveyor dimensions 20?W x 71?L x (maximum) 67?H (89cm x 180cm x (maximum) 170cm)
Electrical requirements 230V, 48A, 3Ph
Heater bank 14,500 Watts
7220 Series: Clamco Heat Shrink Tunnel:
Company: Clamco Packaging
Machine type: Shrink Tunnels
Industries:
Electronics

Food

Manufacturing

Publishing/Print