Phoenix PHP 2150
Phoenix PHP 2150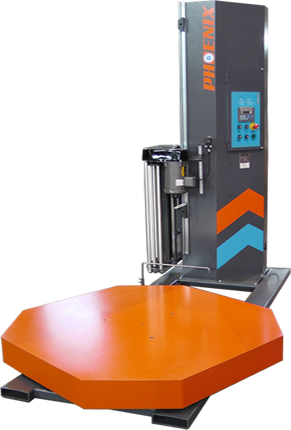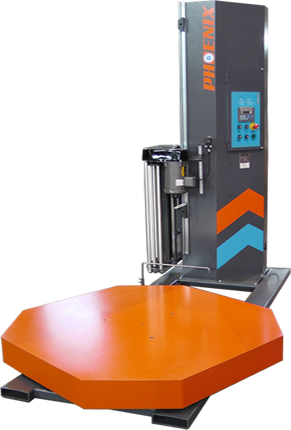 As part of the high profile family of wrappers designed for use with forklifts, the PHP-2150 is the most popular and the workhorse of the High profile family.
Customizable to fit specific stretch wrapping needs, this wrapper is used from wrapping chips to bricks. It provides consistent, repeatable stretch wrapping performance. Extremely operator friendly, the one-touch operator start and simple film roll changing makes this easy to use for all employees. This stretch wrapper wraps even the toughest loads with very little stretch film. Fast, reliable, and built like a tank the PHP-2150 is safe to use and is covered by a full 5-year full coverage warranty.
Semi Automatic Pallet Wrapper With Manual Top Sheet Application |
Flexible & Powerful Operator Controls
Easy to use panel with operator friendly switches and knobs
3 Pre-programmable wrap cycles for different load types
Variable speed control to match load stability
Easy Loading Powered Prestretch
Film Carriage
Reduce film costs with 245% Prestretch (10" off the roll = 34" on load)
Phoenix "Clearview" door lets operator see carriage operating
Dual stage door lock with electrical interlock for operator safety
Pull through film loading takes just a few seconds
Chain drive prestretch for rugged construction.
Built Rugged to Provide Years of Service
7 Roller bearing casters for smooth, quiet operation
Steel construction withstands careless forklifts
Heavy gauge turntable handles heavy loads
Two-part epoxy paint resists wear
Larger Load Capacity Than
Competitive Models

48" Octagonal turntable for 56"×56" loads (80" Load Diagonal)
#50 ANSI direct chain drive for reliable operation
Roller bearing turntable supports for 5,000 lb. capacity
Easy access grease fitting for support bearings
Built in fork tubes for easy transport from front and back
Superior Warranty
5 Year Machine / Lifetime on Prestretch Rollers
Backed by nationwide network of factory trained distributors
Fast, efficient tech support & parts shipping
Capacity


56 x 56 MAX Pallet Size (80" Load Diagonal) Largest Stretch Wrapping Capacity in its Class.
Speed
15 RPM Stretch Wrapping Speed. The Fastest pallet wrapper in its Class.
Best in Class Wrapping Flexibility c/w Keypad Control provides all features as standard…. Including those not available (or an upcharge) on competitive models.
Complete Wrapping Flexibility Including:
3 Wrapping Cycles: Wrap up, Wrap up/down, Top Cover Pause.
Reinforce Wrap and Cycle pause capability.
Keypad controls of all parameters.
Learn more about the Features of our Keypad Control Panel

Stretch Film Saving features such as:
Separate 1-9 top and bottom wrap count providesup to 15% Savings. Apply only the stretch film required at the top separately from the bottom compared to competitive models that applies a common amount to top & bottom regardless of need.
Separate up and down carriage speeds eliminates the time and wasted stretch film applied with competitor's common speed control. (Up to 10% Savings).
Standard Superior Features
5,000 lbs. weight capacity turntable c/w 7 Heavy Duty Casters on Welded Supports.
Variable Speed Drives control all motors for maximum flexibility.
Electronic stretch film tension control with Analog electronic Sensor provides the ultimate in feedback control.
Forklift portable from Front and Back of machine.
Heavy-Duty structural steel tubing and frame.
Steel cross member reinforcement in tower and turntable.
8-3/4" Turntable Elevation – Competitive models are typically 12" to 13".
Control Cabinet enclosed in tower.
Keypad controls of all parameters.
Automatic Load Height sensing photoeye is mounted in the stretch film carriage with adjustable track.
Guaranteed For Life Prestretch rollers with 245% prestretch ratio as standard.
5 Year Warranty.
"Best in Class" Safety features:
Film loading Safety Shut-off switch automatically shuts down power during stretch film loading by Operator.
Easy Film Loading carriage with double lock door control for guaranteed locking.
Mushroom Twist & Pull E-Stop Button.
Stretch Wrapping Options:
30" Powered Pre-Stretch Film Carriage Upgrade.
20" Film Adaptor on 30" Carriage.
Dark Load Special Auto-Height Photo Eye.
Extended Tower - 96" Wrap Height.
Extended Tower - 104" Wrap Height
Many other options are available...