Phoenix PHP 2150
Phoenix PHP 2150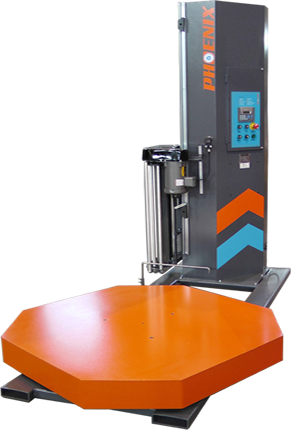 As part of the high profile family of wrappers designed for use with forklifts, the PHP-2150 is the most popular and the workhorse of the High profile family.
Customizable to fit specific stretch wrapping needs, this wrapper is used from wrapping chips to bricks. It provides consistent, repeatable stretch wrapping performance. Extremely operator friendly, the one-touch operator start and simple film roll changing makes this easy to use for all employees. This stretch wrapper wraps even the toughest loads with very little stretch film. Fast, reliable, and built like a tank the PHP-2150 is safe to use and is covered by a full 5-year full coverage warranty.
Capacity
Stretch Film Saving features such as:
Separate 1-9 top and bottom wrap count providesup to 15% Savings. Apply only the stretch film required at the top separately from the bottom compared to competitive models that applies a common amount to top & bottom regardless of need.
Separate up and down carriage speeds eliminates the time and wasted stretch film applied with competitor's common speed control. (Up to 10% Savings).
Standard Superior Features
5,000 lbs. weight capacity turntable c/w 7 Heavy Duty Casters on Welded Supports.
Variable Speed Drives control all motors for maximum flexibility.
Electronic stretch film tension control with Analog electronic Sensor provides the ultimate in feedback control.
Forklift portable from Front and Back of machine.
Heavy-Duty structural steel tubing and frame.
Steel cross member reinforcement in tower and turntable.
8-3/4" Turntable Elevation – Competitive models are typically 12" to 13".
Control Cabinet enclosed in tower.
Keypad controls of all parameters.
Automatic Load Height sensing photoeye is mounted in the stretch film carriage with adjustable track.
Guaranteed For Life Prestretch rollers with 245% prestretch ratio as standard.
5 Year Warranty.
"Best in Class" Safety features:
Film loading Safety Shut-off switch automatically shuts down power during stretch film loading by Operator.
Easy Film Loading carriage with double lock door control for guaranteed locking.
Mushroom Twist & Pull E-Stop Button.
Stretch Wrapping Options:
30" Powered Pre-Stretch Film Carriage Upgrade.
20" Film Adaptor on 30" Carriage.
Dark Load Special Auto-Height Photo Eye.
Extended Tower - 96" Wrap Height.
Extended Tower - 104" Wrap Height
Many other options are available...