Phoenix PLP 2100
Phoenix PLP 2100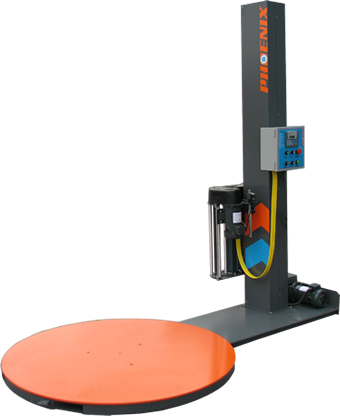 PLP 2100
As part of the Low profile family of wrappers designed for use with pallet jacks, our entry level low profile stretch wrapper, the PLP-2100 is excellent for the typical warehouse environment.
It provides consistent, repeatable stretch wrapping performance. Extremely operator friendly, the one touch operator start and simple film roll changing makes this easy to use for all employees. stretch wrapper wraps even the toughest loads with very little stretch film. Fast, reliable and built like a tank the PLP-2100 is safe to use and is covered by a full 5 year full coverage warranty.
Capacity
Learn more about the Features of our Keypad Control Panel

Stretch Film Saving features such as:
Separate 1-9 top and bottom wrap count provides up to 15% Savings. Apply only the stretch film required at the top separately from the bottom compared to competitive models that applies a common amount to top & bottom regardless of need.
Separate up and down carriage speeds eliminates the time and wasted stretch film applied with competitor's common speed control. (Up to 10% Savings).
Learn more about the Stretch Film Saving Features

Why would you pay extra money with competitive models if you can have these feature
already included in the price at no extra cost?
Standard Superior Features
4,000 lbs. weight capacity turntable.
20x- Heavy Duty Table Support Casters (No lubrication required)
Variable Speed Drives control all motors for maximum flexibility.
Electronic stretch film tension control with Analog electronic Sensor provides the ultimate in feedback control.
Forklift portable.
Heavy-Duty structural steel tubing and frame.
Steel cross member reinforcement in tower and turntable.
One of the lowest turntable elevation in the industry at 2 7/8" to ease operator loading/unloading via pallet jack.
NEMA control enclosure.
Automatic Load Height sensing photoeye is mounted in the stretch film carriage with adjustable track.
Guaranteed For Life Prestretch rollers with 245% prestretch ratio as standard.
5 Year Warranty.
"Best in Class" Safety features:
Film loading Safety Shut-off switch automatically shuts down power during stretch film loading by Operator.
Easy Film Loading carriage with double lock door control for guaranteed locking.
Mushroom Twist & Pull E-Stop Button.
Stretch Wrapping Options:
30" Prestretch Carriage for wider stretch film.
Extended Wrap Height Capacity up to 116".
Extended load diagonal for larger pallet sizes.
Automatic End of Cycle Film Cut-Off.
Many other options are available...