Clysar HPG
Clysar HPG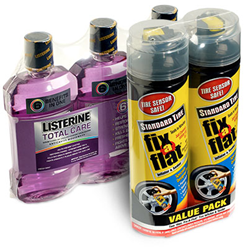 Strong Shrink Films that Bring It All Together
Bundling is all about bringing together value. Whether you're wrappingmulti-packs for club stores, co-branded promotions or buy one/get one product offers, you'll find the perfect film from Clysar. Get strength and security to hold products, brilliant clarity to shine, even printability to create high-impact brand graphics without the cost of an added label. All, in a form-fitting package with no dog-ears or wrinkling.
HP Gold is a multi-purpose all-star: the polyolefin shrink film of choice for a wide spectrum of bundling applications. Co-packers especially like HP Gold, because it can be used successfully for so many applications, even products with voids in the center, like tape and coiled products.
LE Gold offers excellent puncture resistance, thanks to its soft, gentle shrink. Plus, it eliminates ugly dog-ears and wrinkles due to a low shrink initiation temperature and wide operating window in the tunnel.

EZ and EZ Gold Films are excellent choices for high speeds and static or lap seals; great for products like CDs and DVDs. Flat, stiff and sparkling clear, these polyolefin films can be printed for colorful packaging graphics.
ABL Film is the answer for bundling items with irregular shapes, odd profiles or pointed angles; ABL offers extra stretch and shrink for crisp, clear packages that keep it together without dog-ears or excess film flaps.
Thin LTC All-Purpose Film has the best toughness and tear resistance in the LTC (Lowest Total Cost) lineup, giving it all-around versatility to wrap a variety of multi-packs and bundles. LTC polyolefin shrink films replace films up to twice as thick for enhanced sustainability.
Thin LTCH High-Speed Film delivers taut packages at speeds over 80 packages per minute and runs 15% faster than competitive thin films. This exceptionally thin polyolefin shrink film offers a sustainable alternative for wrapping multi-packs and promotional goods.
Thin LTCL Low Shrink Force Film features gentle, balanced shrink for beautifully wrapped packages without bending or distortion. This ultra-thin polyolefin shrink film is a great sustainable alternative for lightweight multi-packs.