Clamco Rollbag Conveyor Kit
Clamco Rollbag Conveyor Kit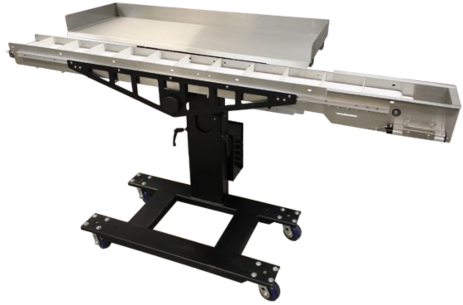 Infeed Counting Device
The Rollbag Kit Conveyor is designed for guaranteed packaging rates or pace rate for operators. Increase production rates when using this conveyor to package faster, easier, and safer. This equipment allows you to package hardware kits, appliance kits, craft kits, and various parts directly into Rollbag brand pre-opened bag-on-a-roll.
The Rollbag Kit Conveyor has three operating modes: manual, paced, and counting. Manual mode works with a simple to use footswitch. The paced mode is for continuous feeding of the product. While operating with the counting mode, the bagger cycles when a photo eye detects the product count. This kit conveyor is designed to be part of a heavy-duty packaging system and is electronically interfaced to work with Rollbag brand automatic baggers.
The Rollbag Kit Conveyor is made with a stainless steel work table that can be equipped with optional dividers. The heavy-duty stand features casters for mobility and is height adjustable.
This unit comes with a six-foot cleated infeed conveyor. Custom conveyor sizes are available, contact us for more details.
The Rollbag Kit Conveyor features a 1-year limited warranty which can be extended up to 5-years when exclusively using Rollbag brand material.
Dividers for the stainless steel work table
Custom fixed funnels for various bag sizes
3 operating modes (manual, paced, counting)
Manual: cycle the conveyor using a footswitch
Paced: set up continuous feeding of the product
Counting: bagger cycles when the photo eye detects the pre-set product count
Electronically interfaced to work with Clamco Rollbag automatic baggers
6 foot in length
Includes a standard funnel designed to work with an 8" x 10" size bag
4" x 6" spacing with 1" tall cleats
Stainless steel work table (dividers optional)
Heavy-duty stand with casters for mobility around the plant
Height adjustable
Custom conveyor sizes available