Clamco R3200 Fulfillment Bagger
Clamco R3200 Fulfillment Bagger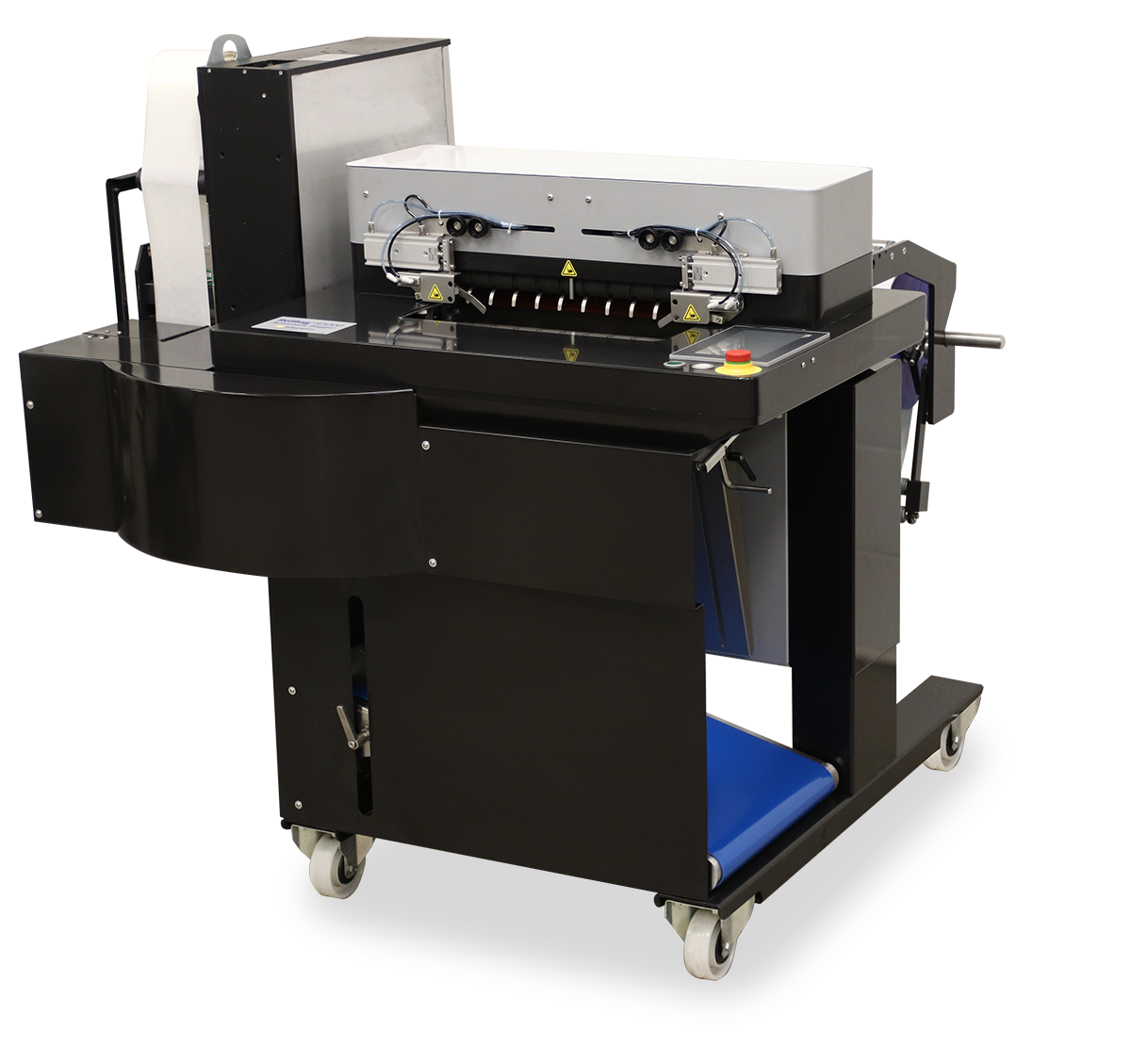 Increase efficiency and lower material costs
The Rollbag™ R3200 Fulfillment automatic bagger is an elite mail order fulfillment bagging system. This automatic bagger works with poly tubing as well as bags on a roll. The benefits of poly tubing include lower material costs as well as right-sizing of the bag to the product by changing bag length on the fly, lowering shipping costs.
The Rollbag R3200 Fulfillment bagger is equipped with a label printer applicator, for next bag out printing, to create a fully integrated order fulfillment bagging solution. Furthermore, this bagger can be equipped with a TwinPrint® dual sided label printer applicator to include the shipping information and packing slip on a single label. For those with long enough bags, a thermal transfer printer option is also available, allowing you to print directly on the bag material.
The standard Rollbag R3200 works with bags up to 16? wide x 24? long and has a seal bar opening of up to 6? (8? opening optional). The larger Rollbag R3200XL Fulfillment works with bags up to 22? wide x 36? long and features a seal bar opening of up to 11?.
The Rollbag R3200 Fulfillment bagger includes a 1-year limited warranty, extendable up to 5-years when exclusively using Rollbag brand bags on a roll or poly tubing!
This bagger is ideal for e-commerce, order fulfillment, e-tail, and distribution facilities that require the highest level of performance in their order fulfillment packaging operation.
Printing Options
Safety Options
Dual Touch Start Switches – two switches must be touched simultaneously in order for the machine to cycle
Light Curtain – prevents the operation of the bagger when the optical detection field is obstructed
Other Options
Foot switch activation instead of using start button
Adjustable Hole Punch – pneumatic punch that puts a small perforated hole in the bag, allowing for excess air to escape
End of Roll Detector – used to monitor when the end of a roll has been reached
Tall Frame – bag lengths over 24"
Right to left package outfeed
Operating Benefits
Works with poly tubing as well as pre-opened bags on a roll
Lower material cost when using poly tubing, by making bags inline before they are filled and sealed
Color touchscreen is operator friendly and has clear readable prompts and alarms
Integrated package discharge conveyor which allows bags to be transported to the right (standard), left (optional), or back underneath the machine (optional).
Large diameter rolls and variable bag length enables machine to package products of practically any length
Easy load bag opener squares the bag up for ease of loading and supporting heavier products
Bag open sensor detects that the bag is in position and ready to accept product
Integrated label printer applicator ties into warehouse management system to print shipping label directly on the outside of the bag
Set-Up Benefits
Interface ports to integrate robotics and other feeding systems
When using poly tubing, change bag length on the fly, manually or automatically via integration to WMS
Store different bag length settings for quick job set-up
Stand with casters and a compact design provides portability
Quick roll change to facilitate easy and fast changeover
Maintenance Benefits
Designed to minimize preventative maintenance costs by using off-the-shelf components
Self-diagnostics ensure quick problem solving
Label applicator uses direct thermal printing, eliminating the need for costly thermal transfer printer ribbon
Warranty extendable up to 5 years when exclusively using Rollbag brand material and labels
Safety Benefits
Low-pressure closing with obstruction detection system for improved operator safety
Designed to meet CE requirements for improved safety and troubleshooting
Model Rollbag R3200 Fulfillment Rollbag R3200XL Fulfillment Speed (bags)up to 40/min up to 40/min Speed (poly tubing)up to 20/min up to 20/min Feed rate up to 40"/sec up to 40"/sec Max bag width16"22?Max bag length24?36?Bag thickness1–5 mil1–5 milElectrical120V @ 20A120V @ 20AAir80psi @ 5CFM80psi @ 5CFMWarranty1 year,
extendable up to 5 years1 year,
extendable up to 5 years Dimensions
(W x D x H)47" x 44" x 48"56? x 60? x 48?* Speed is dependent upon bag size, thickness, product, and printing