Clamco R1285 Velocity Poly Mailer Roll Bagger For Fullfillment
Clamco R1285 Velocity Poly Mailer Roll Bagger For Fullfillment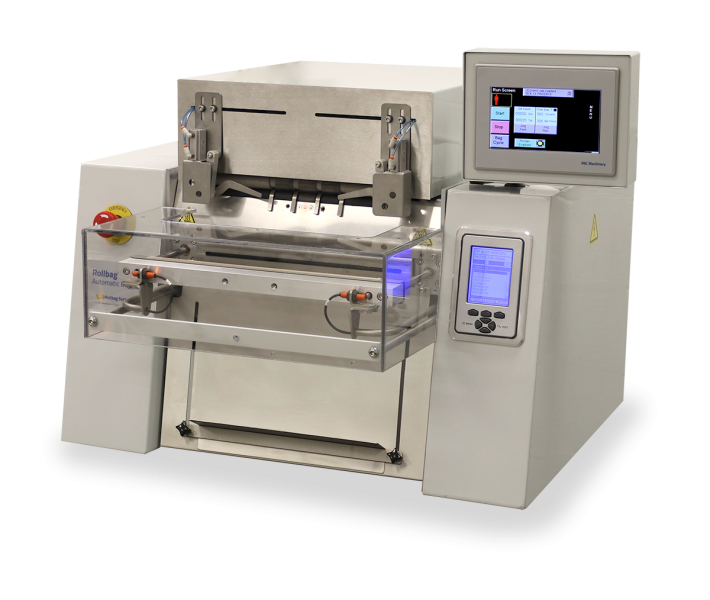 High speed printing and bagging
The Rollbag R1285 Velocity automatic bagger is the fastest tabletop poly mailer packaging system on the market for mail order fulfillment packaging.
Equipped with a reliable 4? thermal transfer printer (203 dpi), the R1285 Velocity bagger is designed for "next-bag-out" printing—perfect for efficient mail order fulfillment packaging using poly mailers. The next-bag-out printing feature enables the packer to scan a packing list and print the corresponding shipping label on the next bag that is disbursed from the bagger. The thermal printer provides a broad range of connectivity to meet diverse application requirements and easily integrates into any warehouse management system.
High performance in a small footprint
The R1285 Velocity automatic bagger is designed to work with plain or custom printed pre-opened bags on a roll and coex poly mailers up to 11? wide. Because the R1285 Velocity bagger uses compressed air, you get the same performance as larger floor standing mail order fulfillment bagging systems, in a much smaller package. This results in an automatic bagger that is ideal for multi-shift use in industrial environments.
Unlike other baggers in this category, the R1285 Velocity can be equipped with a broad range of options to custom tailor the system to your poly mailer packaging process. It even has a 7? HMI touchscreen interface that is easy for people of all skill levels to operate.
Extended warranty
The Rollbag R1285 Velocity includes a 1 year limited warranty, that can be extended up to 5 years when exclusively using Rollbag brand poly mailers and thermal transfer printer ribbon in your mail order fulfillment bagging operation.
Air Expeller / Bag Deflator
This option mounts to the pressure bar and compresses the air out of the bag as it travels inward toward the machine just prior to the sealing process..
Additional Parts Funnels
Wide variety of standard and custom funnels to assist product handling
Articulating Bag Support
A pneumatically operated shelf that is used to support the bottom and back of the bag during the loading process. The shelf then tips down and out of the way after the bag has been sealed.
Bag Spreader / Seal Flatteners
Pneumatically operated opposing fingers that pull each side of the bag taught above the seal area to flatten the bag seal area; thus, decreasing the possibility of wrinkles in the seal area and increasing seal integrity.
Bag Support
Fixed shelf to support bag during loading of heavy products
Dual Start Buttons(Anti-Tie Down)
Two optical no touch" buttons must be passed through simultaneously to initiate the cycle operation of the bagger. If the two sensors are not passed through at the same time, the bagger will not cycle ensuring that fingers or hands cannot be in the seal area. Recommended for hand load applications where no funnel is used.
Ergonomic Start Switch
A pass-through switch used in place of a foot pedal to cycle the machine
Conveyor / Feeder Ready Cabling
The pre-wired cables that allow you to connect to the DC controls of in-feed devices
Kit/Counting Conveyors help with kit packaging and/or product counting operations
Tabletop Console Stand
Mechanically adjustable stand for all the tabletop machines
220 Volt Option Is available 220V, 50/60 Hz
Operating Benefits
7" color touchscreen with clear readable prompts and alarms
Electric foot switch, photo-eye (optional), or fully automatic cycle start
Includes load shelf with bag support (up to 13" bag length)
Printing Benefits
High-resolution reliable printing performance for 24/7 operation
Large graphic display for quick navigation and printer notifications
Broad range of connectivity for use with applications and networks
Maintenance Benefits
Off the shelf modular components for easy replacement
Self-diagnostics ensure quick problem solving
Reliable components designed for multi-shift production
Set-Up Benefits
Utilizes Rollbag pre-opened bags-on-a-roll for quick bag size changes and easy set-up
PLC with 20 job storage, batch counters, packaging statistics & temperature control
Built-in interface ports integrate counters, scales, and robotics
Safety Benefits
Low-pressure seal bar closing with obstruction detection
Dual palm buttons for added operator safety (optional)
Model Rollbag R1285 Velocity Bagge rSpeed Up to 60 bags per minute (dry cycle, no print)Bag Width2? – 11?Bag Length4? – 20?Bag Thickness1 – 5milSeal Width1/8?Printer4? integrated thermal transfer @ 203 dpi Electrical Requirement120V, 7A, 50/60HzAir Requirement80psi @ 2 – 5CFMDimensions30?W x 30?D x 24?HWeight85 lbsWarranty1 year, extendable to 5 years when exclusively using Rollbag brand material Origin Made in the USA