Clamco R1275 Medical Roll Bag
Clamco R1275 Medical Roll Bag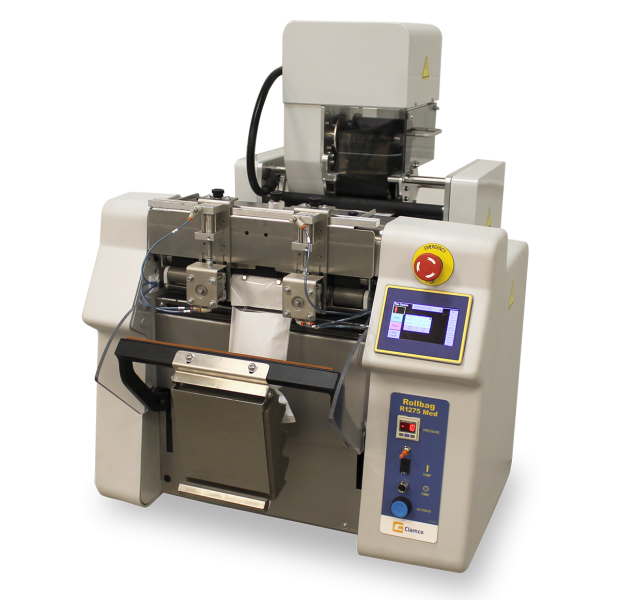 Automatic Bagging System for the Medical Industry
The Rollbag™ R1275 Med is our smallest medical validatable bagger. The Rollbag R1275 Med bagger can outpace hand packaging in either manual or automated feeding modes. Perfect for a growing facility, the compact Rollbag R1275 Med can be the perfect fit between inefficient hand packaging and larger, highly automated production systems. The R1275 features validation ports, allowing the user to reliably conduct the validation process for sealing.
This machine is compact, with a full color touch screen display and uses Rollbags™ (pre-opened bags on a roll).
The Rollbag R1275 validatable Medical Bagger is made in the USA and includes a 1 year limited warranty, extendable up to 5 years when exclusively using Rollbag brand bags on a roll or poly tubing!
Financing Options from $280/month
Operating Benefits:
3" color touchscreen with clear readable prompts and alarms
Electric foot switch, photo eye (optional), or fully automatic cycle start
Sealing Benefits
External validation ports for time, temperature, and pressure
Controls provide calibrations of temperature and pressure
Pressure and temperature sensors trigger alarm and stop operation when out of preset band
Maintenance Benefits
Off the shelf modular components for easy replacement
Self-diagnostics ensure quick problem solving
Reliable components designed for multi-shift production
Set-Up Benefits
Utilizes Rollbag pre-opened bags-on-a-roll for quick bag size changes and easy set-up
PLC with 20 job storage, batch counters, packaging statistics & temperature control
Built-in interface ports, integrate counters, scales, and robotics
Safety Benefits
Low-pressure seal bar closing with obstruction detection
Dual palm buttons for added operator safety (optional)
Model Rollbag R1275 Med Automatic Bagger Speed Up to 60 bags per minute (dry cycle)Speed w Thermal Transfer Printer Up to 40 bags per minute Bag Width2? – 10? (50mm – 255mm)Bag Length3? – 20? (76mm – 508mm)Bag Thickness1mil – 5milSeal Width1/8?Electrical Requirement120v, 7a, 50/60hzAir Requirement80psi @ 2 – 5 cfm (5.5bar @ 140 l/m)Dimensions26?W x 28?D x 22?H (661mm x 711mm x 559mm)Weight75lbs (35kg)Warranty1 year limited warranty, extendable to 5 years when exclusively using Rollbag brand bags on a roll Origin Made in the USA