Clamco R1275 Automatic Roll Bagger
Clamco R1275 Automatic Roll Bagger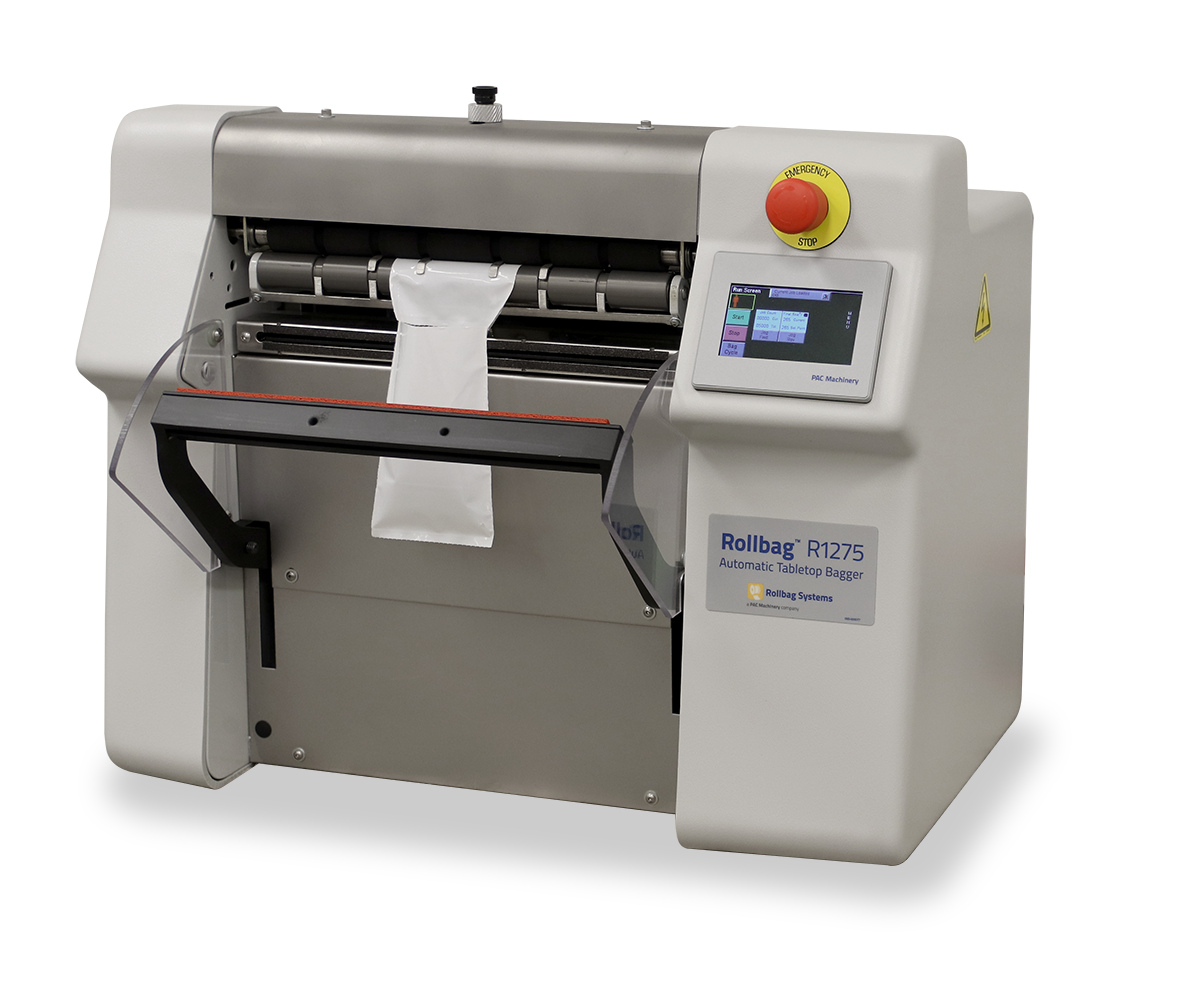 High Speed and Low Cost of Ownership
Operating at speeds up to 60 bags per minute, the Rollbag R1275 Automatic Bagger is the fastest automatic bagger in its class. This exceptionally rugged and versatile automatic bagger is designed for multi-shift production, matching the performance of automatic baggers costing thousands more. The high performance of this automatic bagger is accomplished through continuous development of a time tested platform, a powerful PLC, and a unique stepper motor drive.
Easy Touchscreen Programming
Easy touchscreen programming provides a flexible solution to fast-changing production requirements. With the ability to store up to 20 job profiles, the Rollbag R1275 Automatic Bagger empowers front-line operators with the ability to make intuitive job changeovers without reprogramming, thus minimizing the requirement for costly managerial involvement. Easy to learn and easy to use, help screens and built-in diagnostics ensure optimum performance and productivity. Perfect for cramped work areas, the Rollbag R1275 is compact and has a small footprint.
Use with a Variety of Bags, Printing Options, and Feeding Devices
Like the Rollbag 1075, the Rollbag R1275 uses Rollbag brand pre-opened bags on a roll for fast poly bag packaging. This automatic bagger can be used with counters, scales, and other feeding devices. The Rollbag R1275 also has the ability to easily connect with robotics and other external devices. An optional thermal printer enables the printing of graphics, bar codes, date codes, and text. The Rollbag R1275 Automatic Bagger delivers exceptional value, speed, and flexibility for poly bagging operations.
Safety
Safety features on this automatic bagger include low-pressure jaw closure, jaw obstruction detection, unobtrusive guards, and a prominent emergency stop button. The 220V version of the Rollbag R1275 Automatic Bagger is designed to meet CE requirements.
Extendable Warranty
The Rollbag R1275 Automatic Bagger is made in the USA and includes a 1-year limited warranty, extendable up to 5 years when exclusively using Rollbag brand pre-opened bags on a roll or poly tubing! Financing Options from $200/month
This option mounts to the pressure bar and compresses the air out of the bag as it travels inward toward the machine just prior to the sealing process.
Adjustable Funnel with Preparation Table / Work Sorting Table Stainless Steel table mounted above the machine that allows for sorting, storing and kitting of product before manually pushing the product into the adjustable funnel which guides the product into the bag.
Additional Parts Funnels Wide variety of standard and custom funnels to assist product handling
Articulating Bag Support Pneumatically operated shelf that is used to support the bottom and back of the bag during the loading process. The shelf then tips down and out of the way after the bag has been sealed.
Bag Spreader / Seal Flatteners Pneumatically operated opposing fingers that pull each side of the bag taught above the seal area to flatten the bag seal area; thus, decreasing the possibility of wrinkles in the seal area and increasing seal integrity.
Bag Support Fixed shelf to support bag during loading of heavy products
Dual Start Buttons(Anti-Tie Down) Two optical no touch" buttons must be passed through simultaneously to initiate the cycle operation of the bagger. If the two sensors are not passed through at the same time, the bagger will not cycle ensuring that fingers or hands cannot be in the seal area. Recommended for hand load applications where no funnel is used.
Ergonomic Start Switch A pass through switch used in place of a foot pedal to cycle the machine
Conveyor / Feeder Ready Cabling The pre-wired cables that allow you to connect to the DC controls of in-feed devices
Hot Stamp Printer For printing date and lot codes
Kit/CountingConveyors help with kit packaging and/or product counting operations
Label Printer & Applicator Print and apply labels to your package before inserting the product. This high-resolution industrial thermal transfer printer with label applicator is great for type, graphics, and barcodes, 300 dpi and a 4? print width. Enjoy speedy label printing and output up to 300mm/s. Compatible with a wide range of peripherals and software for customized solutions.
Photo Eye for Bag Bottom Sensing This option allows you to cycle the bagger without the use of the spark sensor for bag length registration.
Thermal Transfer Printer 203 dpi (dots per inch) 4.09 inches wide, speeds up to 10 inches per second. The printer can print barcodes, several text formats and alphanumeric symbols and special characters. It has a built-in Ribbon saving feature is standard, thus reducing wasted thermal transfer ribbon between imprints. USB, Parallel and Serial ports available
Tabletop Console Stand Mechanically adjustable stand for all the tabletop machines
Product load tray with optional dividers for sorting and loading parts or kits
220 Volt Option Is available 220V, 50/60 Hz
Machine Features
High throughput packaging (up to 60 bags/min) in compact tabletop design
Designed for multi-shift production
Operator friendly color touch screen stores sealing parameters for 20 jobs
Simplicity of the interface makes the R1275 very user friendly and simplifies operator training
Integrated dancing roller system designed for consistent film feeding
Interface port integrates counters, scales, robotics and other automatic feeding devices
Programmable time delay for operator pace control or automatic feeding
Foot pedal, control panel, or optional photo-eye available to trigger the bagger
Maintenance Benefits
Designed to minimize preventative maintenance costs
Self diagnostics ensure quick problem solving
Off the shelf components
Safety Features
Low-pressure closing with obstruction detection system for improved operator safety
Unobtrusive guards
Prominent emergency stop button
220 Volt version designed to meet CE requirements
Model Rollbag R1275 Automatic Bagger Speed Up to 60 bags per minute (dry cycle)Bag Width2? – 10? (50mm – 255mm)Bag Length3? – 20? (76mm – 508mm)Bag Thickness1mil – 5milSeal Width1/8?Electrical Requirement120v, 7a, 50/60hzAir Requirement80psi @ 2 – 5 cfm (5.5bar @ 140 l/m)Dimensions26?W x 28?D x 22?H (661mm x 711mm x 559mm)Weight75lbs (35kg)Warranty1 year limited warranty, extendable to 5 years when exclusively using Rollbag brand bags on a roll